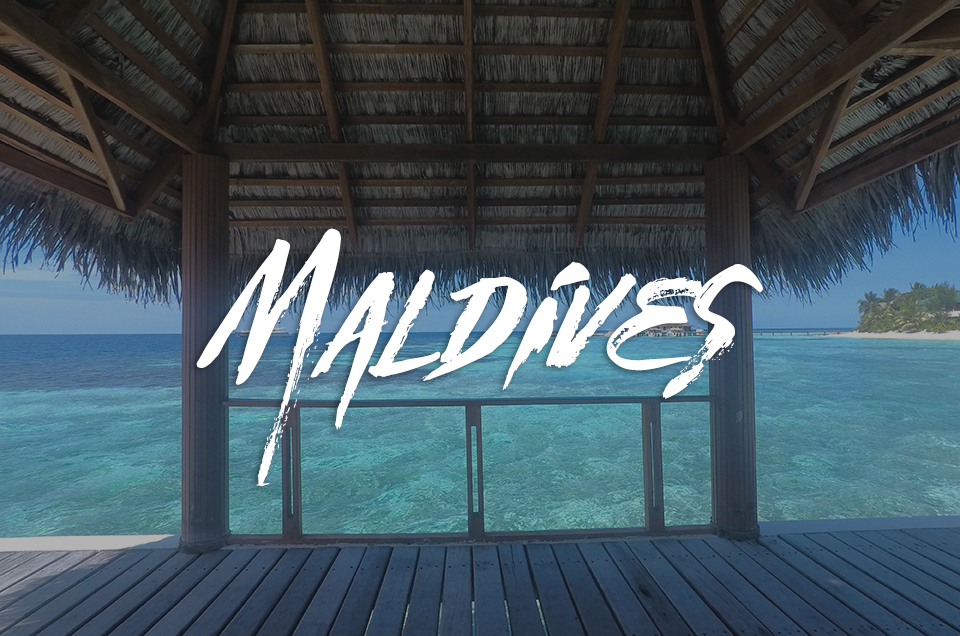 dThe Maldives are the perfect place for honeymoons and couples looking for a luxury island vacation. This country of 21,000 islands has everything a person could want in a tropical island – clear water, white sand beaches, palm trees, warm sunny days, and lots of great diving. It's as close to heaven as you can get. You can even sleep in bungalows right over the water. Crazy!
Well, so here is how it goes. I got married on November 30, 2012, when I was 25 and since then, every next year during my wedding anniversary, I used to be never be at home with my wife. Either busy with weddings, or traveling for some reason. So, this year, we both had planned to relax and plan for a vacation to make this anniversary memorable. We started looking into Mauritius first, but it was too tight dates, so the beach resorts were showing all sky high prices on Agoda. Decided to get to Mauritius in 2017 summer, next in the travel book was maldives, which I always wanted to do, for its no clear skies, water and super slim sand.
During the lunch break at office on October last week, booked the air tickets at Cleartrip Bhubaneswar – Mumbai – Maldives and booked Eriyadu Island Resort and Spa from Agoda,
One sad part here was, Mumbai – Maldives flight was Spicejet, which I literally hate. (I don't remember the reason, why). Also, it wasn't worth the 52,000 INR for the 2 adults from Mumbai to Maldives, which is hardly 3.5 hours air time.
Day 1 : 
The travel date approached and we went off to Mumbai on 26th November and then to Maldives on 27th November morning. The airport is nice and small, right in the middle of the indian ocean and the the aircraft almost lands from the tip of the ocean. Its was a Bombardier Q400 aircraft, took almost 3.5 hours or so for Mumbai – Cochin – Maldives.

Got the immigration done quickly and as usual, I rushed off to the sim card store and got the 4G travel sim card. 22 USD for 5GB 4G data card it was, and the company name was Dhiraggu. Airport coverage was nice for the 4G signals, I was getting around 15-20Mbps average in the airport and was almost grinning when the sim card vendor said that, every island also gets 4G signals. Then there was a guy from our resort standing with my name card. Said hello, and asked him for the space to keep my bags. He asked us to wait, as he is waiting for their speedboat.
Now here it was really irritating. He kept us waiting for more than 2.5 hours in the airport.
Worst part, the speedboat transfer from the airport to the resort takes only 45 minutes, but costs 335 USD (23,000 INR) for 2 adults. GOD DAMN, thats really expensive 45 mins transfer I have ever paid.
Anyways, he showed up after 2.5 hours with an apology for the delay, but I was already red and furious, as it was too tiring in the air already. We started off from the Male airport towards the resort, which is in North Atoll and the speedboat was literally flying at very high speed, cutting through the blue indian ocean. Super views, I would say!

It took almost 45 minutes to reach the resort. As the resort view was closing in, my anger had settled a bit, as it was a breathtaking view already.
It was a very warm welcome by the hotel staff, with wet towels and coconut water.
We walked into the resort, and I was totally blown, looking at the crystal clear water and the white sand. It was literally a paradise.
Some irritating moments now. The hotel managed walked to me and asked me to re-confirm from agoda about the 2 adults voucher thing, as Agoda had given me 1 adult voucher, which I clearly remember I had booked for 2 adults. I asked them to wait until Agoda replies to my email for the rectified voucher PDF, and he was reluctant to do so. Still we moved onto our cottage. It was right in front of the massive indian ocean.

The room was nice, clean and ultra silent. The TV was playing bollywood movies. I asked the person (who came to drop my bags) about the internet Wi-Fi password, and this is what he replied, "we do not have internet service on this island".
I DIED hearing this, and almost felt like hitting him on his face. Immediately called up the front office, and he said the same. I had also lost my 2G, 3G, and 4G signals everything to the indian ocean. The bloody island had no cell tower at all. iPhone was showing EDGE with less than 20Kbps speed. I came out, took a deep breath, managed to open TripAdvisor website (took 15 minutes to open), and submitted a long negative review about the resort. I was just too furious about everything- late pickup, manager's rudeness, internet problems, no cell tower.
I went off to bed that day, as all of my work were pending, which needs high speed internet.
DAY 2 : 
Got up next day, and managed to get a bit better 2G (8-20Kbps or less) signal from the outside of my cottage.
Replied almost 38 emails, which took more than 2 hours, due to the slow internet and attachment upload issue. Then we walked to the beach.
Also did a time lapse of the nice resort view with the super blue clouds,
DAY 3:
As usual, wife woke me up early, for the photo session, requesting for photos. My face tells it all, not interested, hahaha!
The only unpaid job for me is when Im traveling with wife and clicking her pictures. 100+ pictures of her and I was tired already.
Had some sea food and rice in the lunch right here
Then watched few tollywood movies back to back on Sony Set Max. Slept on the sand for few hours with the GoPro.
In the evening, went to see the sunset
Weight up by 4kg, due to the wedding season, but losing it anyways, before I fly to US.
DAY 4:
It was the anniversary day, November 30th. Went to the beach, had fun.
Then had a nice celebration right on the sands of indian ocean.
Then went to the beach again to sleep on the sand and run after the fishes with the GoPro.
In the evening, did amazing sunset time lapse too,
In the dinner, had buffet, costed 75$ for both. Sadly,it had nothing for me to eat. I found bread + rasgulla only. God knows, how the rasgulla reached a lone island of maldives.
Day 5 : 
Woke up early, managed to find faint 4G signals here and quickly replied to around 107 emails.
Went to the beach again to relax and make some ideas about the next visit.
Got call from the hotel guys about the speedboat waiting for airport departure. Checked out, had to pay 764 USD for the room as extra charges for the 2nd adult. (worst).
Speedboat was quite bumpy and wife was scared already, but managed to make it safely to the Maldives International Airport.
As usual, the lame Spicejet was delayed by 2 hours, and my iPad was running out of charge, so had no option, but to sit silent and wait for the mumbai flight. After a long wait, it was there and we went off to Mumbai.
Now Indigo flight at Mumbai to Bhubaneswar was delayed by 4 hours. Bad day!
Finally, managed to reach Bhubaneswar late at 11.30pm on 2nd December and got back to work.
Overall, a very tiring last day.
---
---